The 5 Things to Know When Shipping Your RV or Travel Trailer Cross Country
How are RVs Shipped?
Flatbed services: RV transportation via flatbed consists of larger trucks and flatbed trailers. This method is able to haul multiple RVs or campers at a time and for long distance.
Tow away services: A tow-away service for an RV requires the RV to be hauled to its destination. This method involves special equipment and trucks to ensure safe loading and transportation. The type of equipment and truck depends on the size and type of RV that needs transportation.
Drive away service: With this method, an RV transportation company will dispatch a driver to personally drive and transport your RV to its destination. This does not require any additional equipment or vehicles.
RV Shipping Preparation Checklist
Secure latches on all doors, windows, and cabinets.
Secure or take down any items hanging on the walls.
Turn off all appliances and electronics.
Disconnect the power supply and gas lines.
Make sure there are no loose items within the RV.
Check that all parking, brake, turn signal, and indicator lights are functional.
Latch and secure all cargo doors, chains, and pop-ups.
Lock slide-outs if your RV has them.
Check fluid levels and for any leaks.
Secure tow bar and hitch.
Inspect battery.
Check pressure in all tires and visually inspect for cracks and excessive tread wear.
Verify that service and parking brakes function as they should.
These RV shipping tips are some of the most important things to keep in mind when preparing your RV for transport. Take a look at the owner's manual for your RV for manufacturer-specific information on RV shipping. Even though this process may take some time, it ensures that the RV delivery will go smoothly and that you will receive your camper in good condition.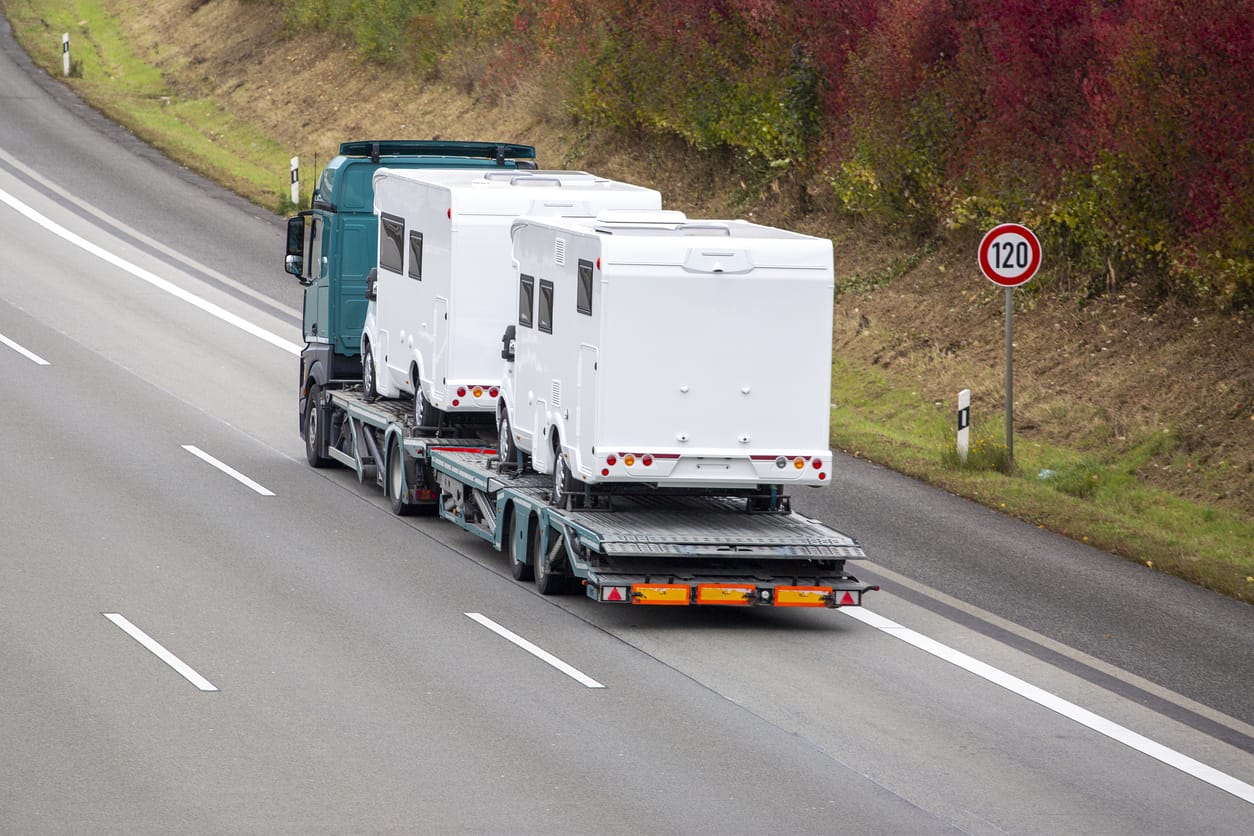 How Much Does It Cost to Transport a Travel Trailer, Camper, or RV?
The cost of transporting an RV depends on the distance and the size of the vehicle and the distance traveled. On average, it costs $3.32 per mile for RV transport less than 100 miles but costs $1.05 per mile for RV shipping less than 1,000 miles.
Also keep in mind, you may end up paying more than the average prices to ship an RV. Factors such as seasonality demand, vehicle condition, and gas prices play a huge role in the cost to ship a camper.
How to Find the Best Company
Transport companies are very different. Some have your best interest in mind while others only care about the size of your wallet. The best way to sift the wheat from the chaff? Two words: Due Diligence.
If you're like most RV owners, price is an object. Still, it's important to know that the transport companies boasting the best price are often the same ones with less than stellar service and a questionable reputation.
Due diligence includes:
Investigating the shipping company's credentials
Reading customer reviews on third-party sites (Google reviews or Transport Reviews, for example)
Understanding the shipper's insurance policy (You're entitled to see their current insurance certificate. If they balk at your request, it's a red flag.)
Knowing if they've transported RVs, campers or trailer before (You can ask for references to happy customers that you can contact)
While this might seem time-consuming, it's often information that's readily available. Doing your homework will save you from one of the worst headaches in your life.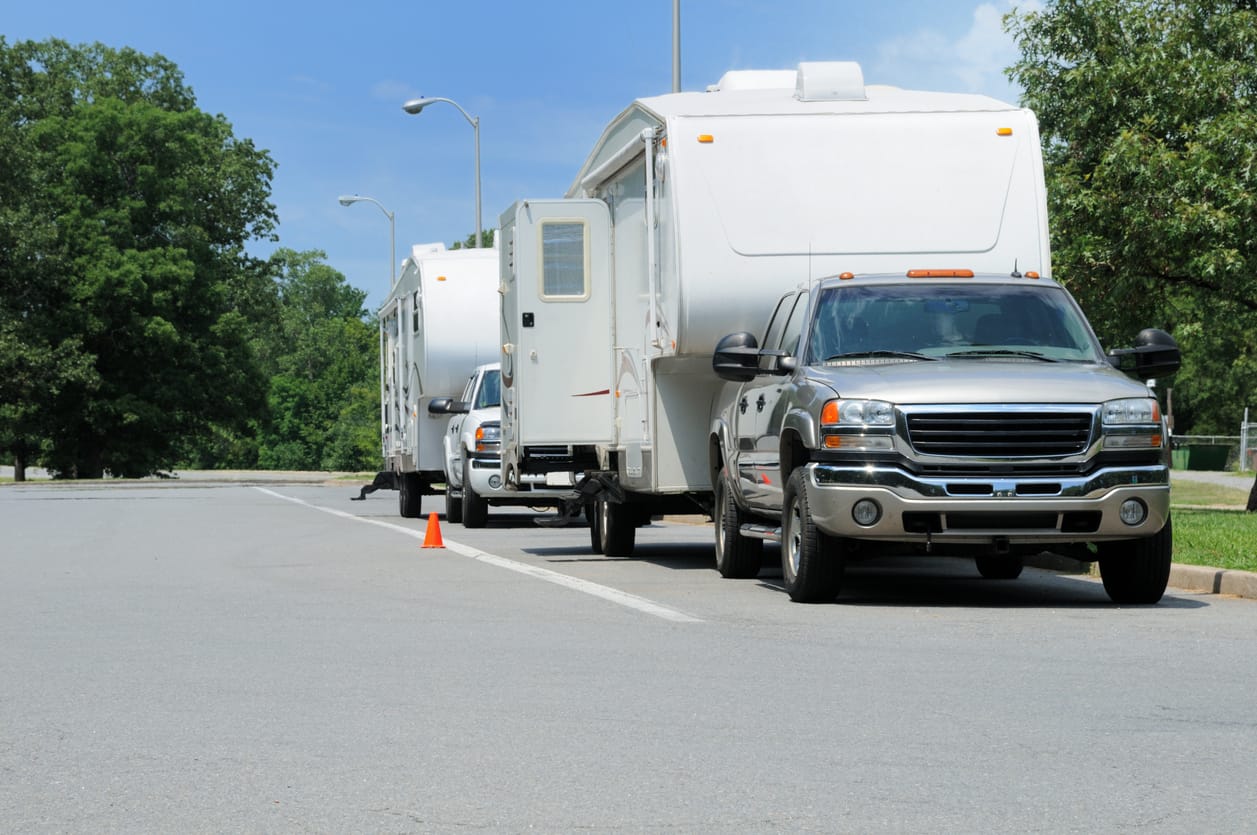 What If My Travel Trailer, Camper, or RV Gets Damaged in Shipping?
This is something that everyone worries about if the RV is shipped by boat, rocky terrain, or just careless drivers. Take preventive measures. Get RV shipping insurance. Always review the insurance policy of the company you use. Ask questions such as:
How much RV damage is covered by the policy?
What exactly is covered and not covered in the policy?
Take current pictures of your vehicle so you know what to claim when you get it back.
When you get the vehicle back from the transporter, thoroughly inspect the RV with your operator. The more you have documented the more prepared you will be if something does happen. If it does, contact the RV shipping insurance company immediately and have it written on their documents.
Most RV shipping companies try to ensure you have a good experience. Be kind but be persistent. If you are going to go through all the struggle of transporting your vehicle, you want it returned in one piece.
SAC (
Ship A Car Inc.
) is a reliable and safe nationwide vehicle shipping company, and we are prepared to help you with every need that comes alone with shipping your RV/ Camper cross country. We fully treat you and your vehicle with respect. If you need any more information or have any questions please feel free to contact us at
866-821-4555
!
*Prices are subject to change: all prices above are current market prices for November 2021