It's Easier Than You Think to Clean the Air Filter in Your Car
Cars require maintenance in many different areas, and unless you are a mechanic, these areas may seem like a foreign language to you. However, this maintenance is required in order to keep your vehicle running efficiently. Things like filling up on antifreeze or filling up on windshield wiper fluid seems to be straightforward. One area that is not as daunting as you may think, and is still a necessary area of maintenance. The air filter is an area that not many people feel they are up to the task to take on, but it is easier than you think. 
Cleaning the filter
To extend the life of your car filter, there are two major options for cleaning: vacuuming or washing. Both options have their own advantages and disadvantages. However you decide to clean your filter, you must first remove it from its position in the vehicle. Once it is removed from its housing, immediately take it away from the engine to prevent any insects or lose debris from falling into it. 
Ultimately, washing the filter has proven to be much more efficient in the cleaning process. Vacuuming is extremely quick, and will work for a quick fix. To efficiently use this method, use a hose attachment, and make sure to vacuum on all sides.
If you have the time, and wish to use the most efficient method of cleaning it, actually washing it will be the preferred method. To do so, use any type of cleaning solution along with a bucket of water. It will not take a lot of soap to clean this, simply a nickel-size amount of dish soap or laundry detergent in a bucket of warm water. Once you have the filter removed, soak and move it around in the bucket until the filter has been thoroughly cleaned. Make sure you dry the air filter thoroughly before placing it back into the vehicle. 
Oil-coated Air Filters
There is a chance that your air filter is covered in oil when it is pulled out. If this is the case, vacuuming is obviously not an option, and dish soap nor laundry detergent will effectively remove the oil and clean the filter. To clean the oil from the filter, you first need an actual oil filter cleaning spray. Once you have the filter removed, completely cover it with the cleaning solution, and allow it to sit and soak for at least ten minutes. After soaking the solution, you are able to rinse off the solution, clean it in a bucket of warm water and cleaning solution, and allow it time to dry. 
Before Placing the Filter Back
After you have cleaned the filter, no matter which method you decide to use, you need to spray the filter with specialty oil to ensure it has an oil coating on it. Make sure you allow the oil to be absorbed by the filter before placing it back in the car. Furthermore, it is important to find the correct oil to put on the air filter. To do so, find your air filter manufacturer, and then use the correct spray based on their recommendations. 
Cleaning the Air Filter in the Spring
While there is a suggested time period of the mileage, it is also recommended to clean the air filter in the Springtime. Air filters work overtime during the Springtime in order to work through the pollen in the air. In addition to cleaning the air filter, one should change the oil, check the wiper blades, and clear any debris stuck under the hood of your vehicle.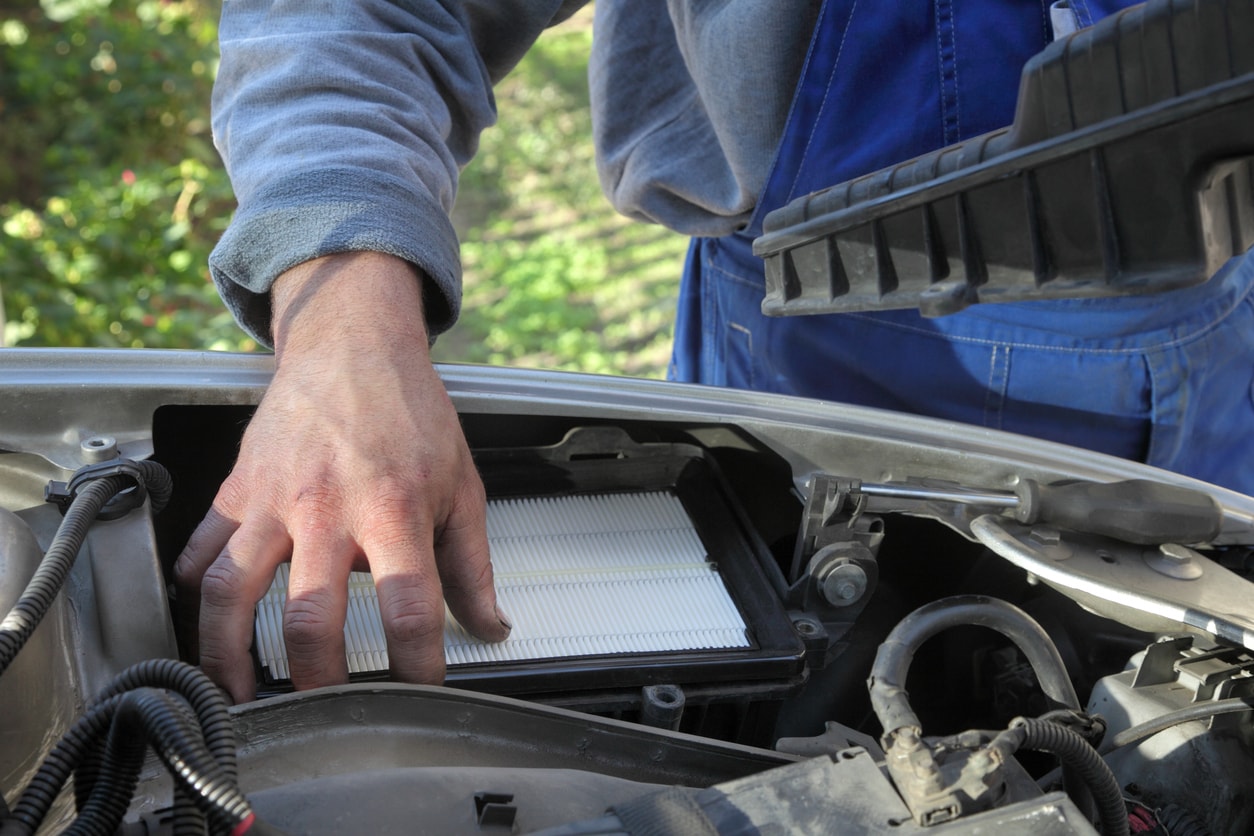 When You Need to Replace the Filter
While there are times to clean the air filter, there are certain indications that tell you when it is time to completely replace the filter. Some signs would be seeing black smoke or flames coming out of the tailpipe. Furthermore, if you start your car and begin to smell gas, it may be time to change the filter completely. Other signs, which are much more subtle, like having to fill your fuel tanks more, difficulty accelerating, or if the check engine light is on. A general time frame for replacing the air filter is every 12,000 to 15,000 miles. Despite this recommendation, those who are looking to extend their car filter life by cleaning it. 
Conclusion
Overall, the air filter is an important component of your vehicle that needs to be cleaned in order to ensure the vehicle is running smoothly. Both vacuuming and washing the air filter are excellent options, but washing tends to be more efficient. However, there are times that the air filter is just beyond cleaning, and they simply need to be replaced.