How to Ship a Car in 2021
Do you need to move but don't know how to ship your vehicle? Whether you're moving across the country or just a few hundred miles away, it's important to consider your auto shipping service options, key factors that impact the cost of shipping, and top-rated transporters like Ship A Car to ensure your shipment process is easy-flowing and hassle-free.
What to expect from the Auto Shipping Process
Select an auto transport company. In the auto transport business, there are two main types of companies: carriers and brokers. Brokers connect customers with carriers in their network that best accommodate to the customer's shipping needs. A reliable broker should be licensed through the Department of Transportation (DOT) and insured. Carriers transport the vehicles from one place to another. High-quality carriers should also be licensed through the Department of Transportation (DOT) and insured.
Provide your information. Auto transporters need to know details about your pickup location, vehicle, and destination to provide the service you deserve. Most companies will ask for the following:
Vehicle make, model, age, and operability
Pickup location and destination
The preferred time frame for shipment
Name, email, and phone number
Using this information, the company will offer you a quote for your car shipment. Keep in mind that your final car shipping cost may cost a little bit more or a little bit less than the original quote you received. These quotes are also the best estimates for the transport however, the final cost of transport – once a carrier is located – may be different.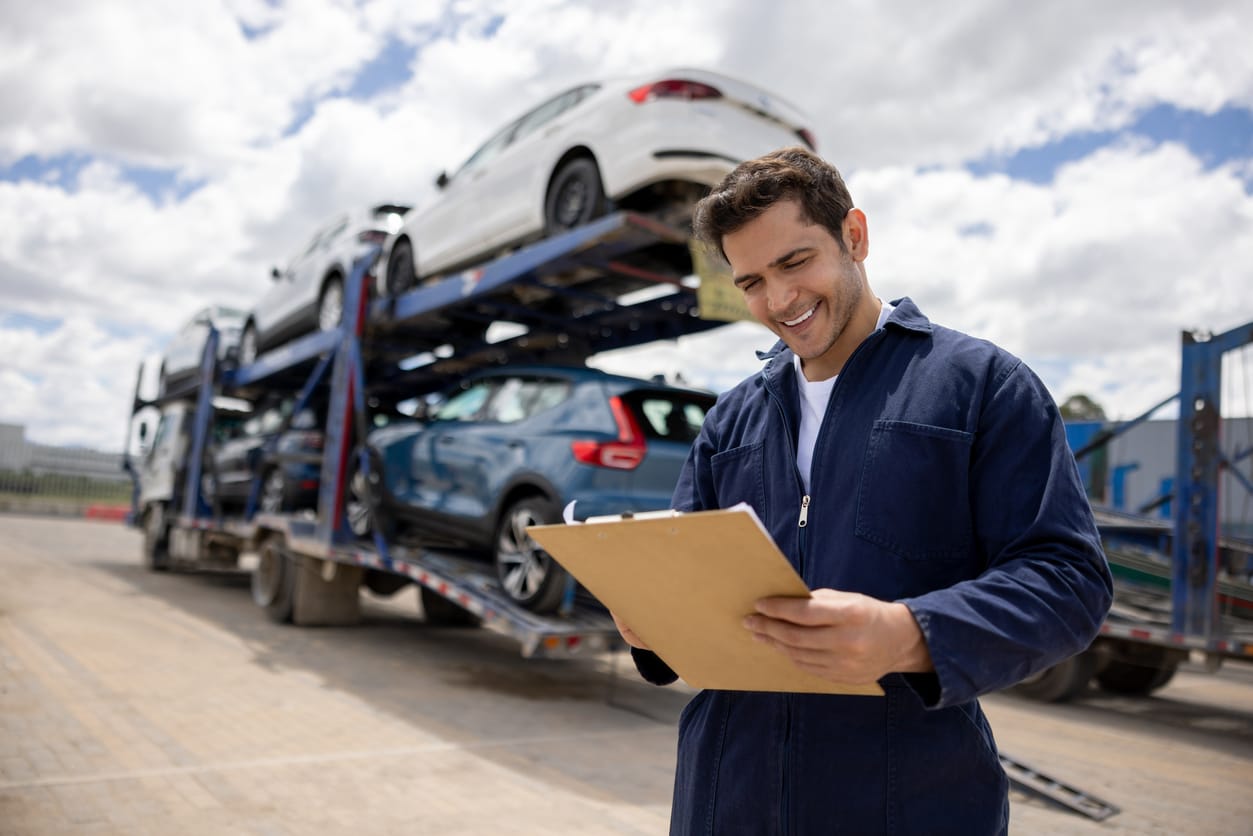 Choose your auto transport service. Most companies offer open transport and enclosed transport as well as door-to-door shipping. Others offer specialty services like terminal-to-terminal, expedited, and single-car shipping. We'll go more into depth about each type of service in detail in the next section.
Book your shipment. After you've selected a service, timeframe, and destination you're happy with, you can now book your shipment. You will either play full upfront or make a partial initial payment and pay the balance once your vehicle is delivered. Please note that Ship A Car will only charge you a deposit upon booking your vehicle transport and the balance will always be due directly to the carrier once your vehicle is delivered.
Remove all personal items. Once you've chosen an auto carrier either directly or through a broker, you'll now need to prepare your vehicle. Most auto transport companies do not let you ship personal items inside the car.
Inspect your vehicle. On the day your vehicle is being shipped, you and the carrier will inspect your vehicle to account for any existing damages before the shipping begins. Make sure to take photos of your car in case of any subsequent damage or loss.
Touch base with the auto shipping company. Some companies provide GPS tracking information through an app, website, or phone service. By checking in on your car, you'll gain knowledge of any delays that could affect the pickup date or location.
Pick up your car. Your vehicle will either be delivered to your door or to a predetermined terminal depending on which service you chose. You should then inspect your vehicle again in case of any damage, then sign the bill of lading, which states that the vehicle was delivered – always make sure that the carrier gives you the signed bill of lading. Finally, you will then pay the remaining balance that is owed for the car transport.
Ways to Ship a Car
When choosing how to ship a vehicle, you'll likely come across a number of options that can enhance the shipping process. Here are a few car shipping services you may be able to select depending on the company, budget, and your vehicle:
Open auto transport : Most common car transport service in which your vehicle is exposed to the elements
Enclosed auto transport: Vehicle is transported in an enclosed trailer or shipping container to prevent damage
Door-to-door: Vehicle ships as close to the customer's home as possible
Terminal-to-terminal: Vehicle is dropped off and picked up at a predetermined location along with other auto-shipments
Expedited: Rather than wait one or two weeks for carrier availability, customers can ship vehicles in a few days
Single-car: The vehicle is shipped by itself (often in an enclosed shipping container)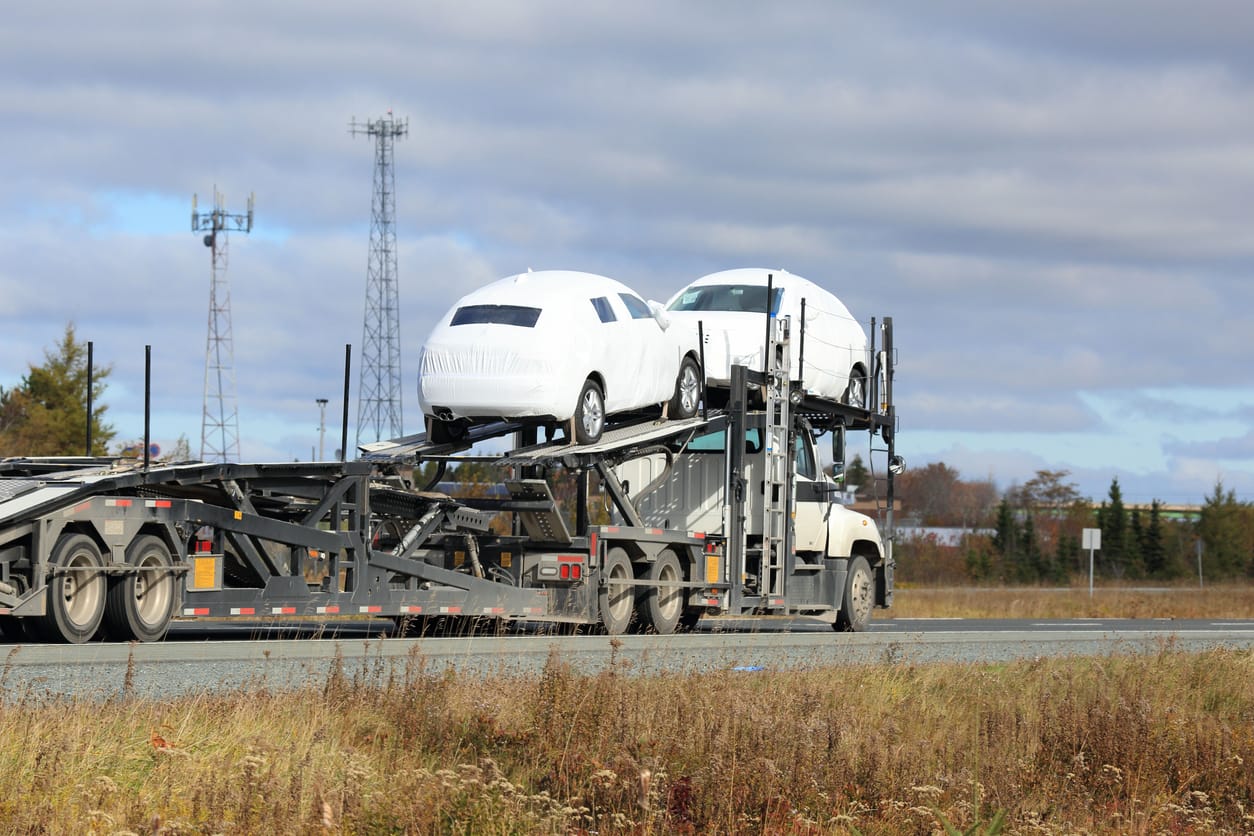 What Factors Affect the Price of Car Shipping?
Before reaching out for a quote, it's good to know what impacts your car shipping prices.
Miles traveled: Cross-country shipments have better rates per mile than shorter-distance shipments, but they cost more overall.
Transport type: Enclosed carrier transport is more costly than open carrier transport, but it may be worth it for luxury and classic cars. Door-to-door shipping is also more expensive than terminal-to-terminal shipping since the service is personalized.
Time of year: Demand is higher in January and summer months, making car shipping services more expensive.
Carrier competition: When using a marketplace-style service, higher competition between car carrier bids means lower auto shipping costs.
Price of fuel: Depending on the economy, car shipping will cost more to compensate for fuel costs.
Vehicle operability: Inoperable vehicles take more effort and resources to move, making them more expensive to ship.
Vehicle size: Larger vehicles, like SUVs and trucks, cost more to ship than a standard coupe. This also applies to specialty vehicles like recreational vehicles (RVs) and all-terrain vehicles (ATVs).
Hidden fees: Service fees, insurance costs, and carrier price increases may also increase your final car shipping cost.
Ship A Car, Inc. is a car shipping company with a nationwide network of auto transport carriers that have been personally vetted by our Dispatch Team.  SAC will always make sure that they are putting your vehicle on only the most reliable, affordable, and professional of transport providers that are both licensed and insured as well as have a rating of 95% or better.
Call us at 866-821-4555 and tell us about your motorcycle transport needs to receive a free no-obligation quote for your move.  Rest assured that the SAC Transport Team of professionals is the best choice for your motorcycle transport as we have earned an "A+" designation from the BBB, as well as an overall average 5-star rating from our customers.