Military Car Shipping Services and the Discounts You Can Get
In this post, you will understand the peculiarities of military car shipping and the discounts available for you.
What is a Military Car Shipping Firm?
As the name implies, a military car shipping firm offers military car shipping services. If you are looking to transport a personal or an army vehicle, these firms will help you. The right car shipping company will cater to military members and their families; to include both active-duty personnel and retired army personnel.
What Discounts Do They Offer?
As an army, air force, navy, marines, and coast guard member, you can get discounts from $25 and above from several military car shipping companies. Usually, it is their way of appreciating you for your selfless services to the nation.
When you visit their website, you may find shipping price estimates. These estimates are subject to changes based on season, distance, and the type of vehicle you are transporting. Either way, check out the reviews to ensure that the shipping company you choose is known to stick to its pricing plans without hidden charges. If you do not see information about discounts on their website, you can call to ask for one.
Also, certain shipping companies choose to offer discounts if you're shipping to a further distance, i.e., you are shipping overseas.
What Transport Methods Do They Offer?
There are two main transport services; open-air transport and enclosed shipping. Both types have their advantages and disadvantages. Open air allows you to ship your car at lower prices than enclosed shipping. However, it exposes your car to more damage, as it is shipped with other vehicles and exposed to outdoor nature elements, i.e., rain, snow, small road debris, etc. On the other hand, your car is shipped alone in enclosed shipping, offering your vehicle secure transportation. If your vehicle is a luxury car, this is the type for you. However, it is more expensive.
Also, there is flatbed shipping. This type is not commonly used as it is for large vehicles that can not fit onto standard trucks.
What Documents Do They Require?
The basics would include a military ID copy, a vehicle ownership document in your name, and a lease or lien letter if you got your vehicle on lease. You may also need to provide the receipt for your paid taxes.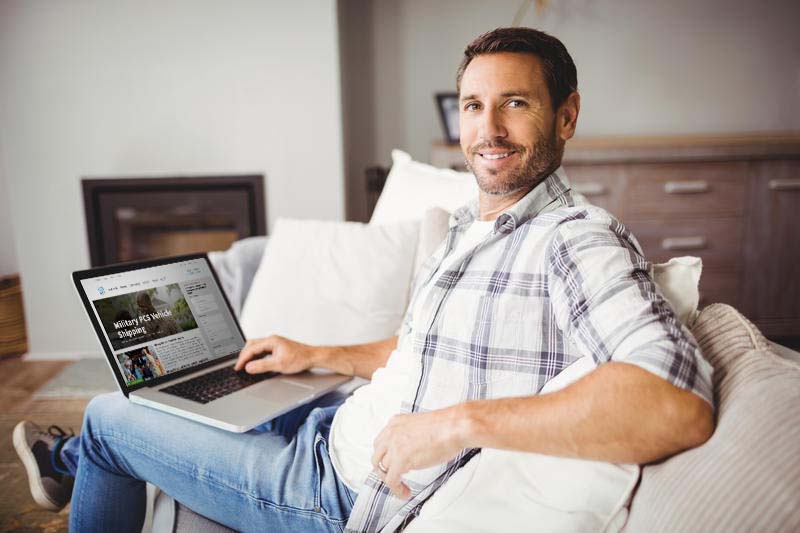 Why You Need a Military Car Shipping Company
As military personnel, you may receive a PCS order anytime during your career. If it comes within short notice, getting a shipping company will ensure smooth transport of your vehicle from your old to your new station.
You may decide that you want to drive your car instead but think about the stress that follows. Whether you are traveling interstate or overseas, it is a long distance. Your vehicle can experience wear and tear from driving such a long distance.
Where Can You Ship?
You can go for a door-to-door shipping option. Door-to-door can include shipping from your former base to your new base. If you live within your military base, shipping companies will need special permission to retrieve your vehicle off your base. You can bypass this and meet up with the transporter just outside the base or any other location as agreed upon.
Shipping More than a POV
The government usually only covers the cost of shipping one POV if you are a large family with more than one car. You will most likely cover the cost of your other vehicles. However, the government can consider authorizing two vehicles on exceptional occasions.
Conclusion
We understand that as active-duty military members and retirees, you will move from one military base to another at some point. Contact Ship A Car at (866) 821-4555 now to enjoy the most convenient vehicle shipping service for military members you will ever experience. When you contact us, our representatives are ready to walk you through the entire process without stress.
FAQs
●     Is My Vehicle Insured During Transit?
Yes. Your POV is fully insured from the point of pick-odd to delivery.
●     Can you move a vehicle without legal plates?
No. Most state laws require that we transport legal vehicles on public roads and highways.
●     Will I pay import taxes when shipping overseas?
You may need to pay an import tax on a personal vehicle. However, import taxes can be waived if the government owns the vehicle.